The Scientific Park at the Miguel Hernández University of Elche (UMH) was founded in 2008 with the aim of becoming a large business space capable of accommodating and stimulating a large number of innovative and technology- and knowledge-based companies. Throughout its ten years of existence, the park has accommodated nearly 80 innovative companies, which have created almost 300 quality jobs, and it has fostered the startup of close to 140 business ventures.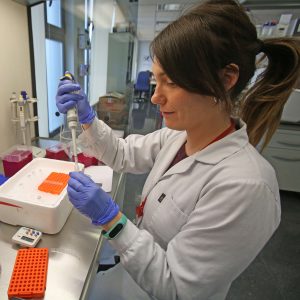 This business innovation is reflected in close to 10 patent applications, of which almost one-half have been granted. The success of these firms is also due, in part, to their continuous commitment to research, a purpose evident in the fact that nearly 35 of them are involved in R&D projects and close to 15 collaborate with specialized research groups from different sectors.
This thriving ecosystem, capable of adapting to the situations of each of its companies, considers fostering the transfer and diversification of knowledge between academia and the market among its main objectives. Moreover, promoting the creation and development of innovation in turn facilitates improvements in the business fabric throughout its area of influence.
In order to achieve these goals, the UMH Scientific Park employs two main work lines. Its first focuses on supporting already-established firms through services such as the search for public and private funding. To be specific, the park has obtained 2.5 million euros to continue fostering innovation in its companies. As for the second work line, the park also focuses on promoting new companies that are capable of innovating by providing solutions to market and societal demands. It achieves this by advising entrepreneurs through its UMH Business Creation Marathon, which in 2019 will hold its eighth edition, and the UMH Sprint, which just concluded its sixth. In their latest editions, both events saw record numbers of participants. The Explorer international initiative, Jóvenes con Ideas (youngsters with ideas) is another attraction at the park, which in 2019 will be held for the fifth consecutive year.
Since its birth and through its entrepreneurial support lines, the UMH Scientific Park has advised almost 1,300 entrepreneurs on some 800 ideas and business projects. It has also distributed more than 600,000 euros to boost entrepreneurial initiatives and fostered the creation of close to 140 innovative companies.
Commitments to these lines of work have also led the Scientific Park to bolster the business fabric in surrounding provincial municipalities. To accomplish this, in 2016 it implemented UMH Emprende to foster entrepreneurship in associated localities and to support the development of established firms there. To date, the cities of Castalla and Aspe have shown support for this purpose and have renewed their commitment to this initiative.
The UMH Scientific Park operates from the perspective of a potentially technological future, so one of its goals is to reduce the gender gap in employment linked to engineering and new technologies. With this purpose in mind, two years ago the Scientific Park implemented the Escola de Frikis, a program that strives to boost learning the STEM disciplines (science, technology, engineering, and mathematics) in both boys and girls aged 6-12.
Thanks to these initiatives and projects, the UMH Scientific Park has received several national and international awards that recognize its commitment to innovation and this entity's talent. To further its objectives, the park works every day to transform its businesses into major players that help position this area of influence into a rich and dynamic environment, capable of accommodating leading companies that through their advances, improve everyday society.