The Nau de la Innovació of the Scientific and Business Park at the Miguel Hernández University of Elche (UMH) has announced the winning projects from the 3rd edition of the UMH Entrepreneurship Marathon. On this occasion, it has decided to award 10,000 euros to Leie-calzado de novias, Runnerplace, Ociogrupo, and Universalgrip, while the Agrovalor and Appandabout projects will split one of the prizes.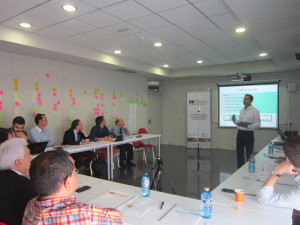 Leie-calzado de novias consists in the creation of a footwear design studio, and Runnerplace is a new communication channel for athletes, organizers, and sportswear brands. The Ociogrupo project is an online travel agency for groups and complementary offers, and Universalgrip is an idea based on manufacturing, distributing, and marketing protective care for the body.
One prize has been divided between Agrovalor, a project dedicated to comprehensive management of waste, leachates, and sludge, and Appandabout, a business developing mobile applications with innovative technologies. Each of these will receive 5,000 euros.
The monetary prizes will be allocated to help put their business projects in motion. What's more, the winning entrepreneurs will receive a year's free stay at the Nau's business incubator located in the Innova building on the Elche Campus.
The jury was composed of UMH personnel and area investors.