UMH Moto Experience, a prototype motorcycle designed by six engineering students from the Miguel Hernández University of Elche (UMH), has finished first in the Maximum Speed at Speed Trap test at the III International MotoStudent Competition held the weekend of October 4-5 at the MotorLand Aragón (Teruel, Spain) circuit. The UMH team earned this prize, consisting of 3,000 euros in cash with another 3,000 for registering in competitions, in a competition in which 30 university teams from Spain, Italy, Portugal, Hungary, Brazil, and Ecuador participated.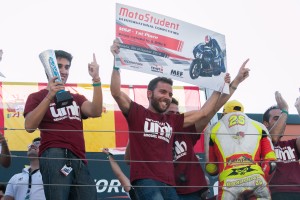 The final score in the MotoStudent competition also included tests of acceleration, braking, and a gymkhana. The results of these tests, coupled with the victory in the race, the pole position, the fastest lap, and the maximum speed, permitted the team from the School of Engineering of Elche to conclude two years of work at the top of the podium. Amateur motorcyclist Francisco Alberto Moya piloted the prototype from the university's team.
The prototype presented by the UMH students contains an important innovation as it was manufactured from a single piece of aluminum welded to the sub chassis, the seat, and fuel tank. Its engine is a 250cc 4-stroke; the motorcycle weighs 95 kg, it is rated at 40 hp, and reaches a speed of 170 km/h. It has a twin-aluminum-beam chassis, a wheelbase of 1,220 mm, and an 800 mm seat height. The prototype reaches 13,500 RPM.
MotoStudent is a competition created by the Moto Engineering Foundation (MEF), a nonprofit organization that strives to promote technological development in the field of motorcycling. For this reason, it has created a contest that consists in manufacturing a Pre-Moto3, a 250cc 4-stroke competition motorcycle. These motorcycles have characteristics similar to those from the small category of world motorcycling, although the engines in the latter are specifically designed for a race track, while those from the student projects are derived from an enduro motorcycle.
Further information is available at http://www.motorlandaragon.com/es/general-circuito-de-velocidad/noticias/la-iii-competicion-internacional-motostudent-reunio-mas-de
Declaraciones del estudiante de la UMH José Ramón Candela
Declaraciones del estudiante de la UMH José Ramón Candela