The newspaper La Verdad has awarded its Best Institutional Web Award to the Miguel Hernández University of Elche (UMH). Jesús Pastor Ciurana, UMH Rector, accepted the prize on November 19 at the Teatro Principal in Alicante.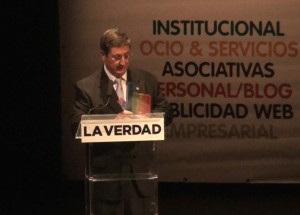 The jury of the sixth edition of the La Verdad Web Awards highlighted the UMH webpage for its usability, the quantity of information it contains, and its usefulness.
The La Verdad Web Awards recognize work being done on the Internet by businesses, organisms, groups, and individuals within the province of Alicante.
Declaraciones del delegado de La Verdad de Alicante y miembro del jurado, Pedro López
Declaraciones del rector de la UMH, Jesús Pastor Ciurana