UMH students present the Dátil ´15, an energy efficient vehicle participating in the Shell Eco-marathon
The Miguel Hernández University of Elche (UMH) presented  the Dátil ´15, an energy efficient vehicle that a group of students from the School of Engineering of Elche (EPSE) will use to participate in the international Shell Eco-marathon competition to be held May 22-24 on an urban circuit in the city of Rotterdam, the Netherlands. This competition rewards the vehicle that travels the most kilometers on a liter of fuel. Attending the car's presentation were UMH Vice Rector for Institutional Relations, María Teresa Pérez Vázquez, and university associate professor and student coordinator, Miguel Ángel Oliva.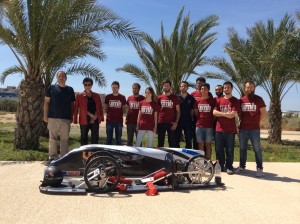 Seven undergraduate mechanical engineering students, three from the mechanical specialty of industrial technical engineering, and five industrial engineering students from the UMH have worked for nine months building the Dátil ´15 prototype, which was coordinated by associate professor Miguel Ángel Oliva from the UMH Mechanical Engineering and Energy Department and researcher David Abellán. Driving the vehicle will be students Cristina Planelles and Ángela Cuenca.
Around 200 teams from around the world participate in this international competition. This year's will be the 12th time that the UMH participates in it with an energy efficient vehicle. The students have built an entirely new prototype that reduces its weight to 28 kg (a 30% reduction compared to the previous model), it has innovative front-wheel drive that optimizes weight and minimizes friction in curves, and improved aerodynamics by some 40%. The UMH vehicle is 2.85 meters long, 60 centimeters wide, and 50 centimeters tall. It is one of the lowest models in its category, and this design considerably reduces the risk of rollovers, something important to keep in mind as this year's competition takes place on an urban circuit with tight curves.
The competition consists in completing laps around the circuit to find out which vehicle travels the farthest on one liter of fuel. The average speed of the prototypes must not be inferior to 25 kilometers per hour. Among Spanish teams using internal combustion engines, the UMH vehicle currently holds the record with a mark of 1,455 km per liter of fuel. In last year's competition, the Dátil finished third among prototypes using ethanol for fuel. With the incorporated improvements, the UMH team hopes to surpass the mark of 2,000 km on a liter of fuel and win its category of ethanol-fueled prototypes.
The sponsors of this UMH initiative include the Vice Rectorate for Institutional Relations, the School of Engineering of Elche, SEUR, and the Volund Group.
Declaraciones vicerrectora de Relaciones Institucionales de la UMH, María Teresa Pérez Vázquez.
Declaraciones del profesor de Ingeniería Mecánica de la UMH Miguel Ángel Oliva.
Declaraciones de estudiante del Grado en Ingeniería Mecánica de la UMH Javier Martínez.