Dual Bachelor's in Law and Business Administration and Management to be offered at the UMH starting next year
Campus, Convenios, Elche, Students, Fuente, University, Investigación, Noticia, Noticia con foto, Noticia portada UMH, Others, Others, Front UMH, Servicios UMH
23 March 2016
The Miguel Hernández University of Elche (UMH) will offer the Dual Bachelor's in Law and Business Administration and Management for the upcoming 2016-17 academic year. By adapting its academic offering to the current social environment, one that is more globalized and competitive, the UMH values the interest in the implementation of this double degree. Sixty places will be available for its first class.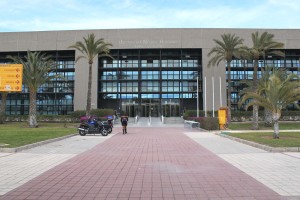 Students will be able to enroll in this double degree program, whose proposed five-year curriculum established by the UMH consists of 366 ECTS credits. Courses from both undergraduate programs may be taken simultaneously, and graduates will be conferred two bachelor's degrees. Instruction will take place entirely in the classroom during morning hours.
This double degree will provide joint acquisition of two academic specialties, law and business administration, which are highly complementary. Moreover, it will afford its graduates added value to their employability and result in a clear improvement of the human capital available to enterprises within the UMH sphere of influence. Professional qualifications in the legal and business fields are in high demand by both the private and public sectors.
The possibility of offering students the aforementioned double degree has become a UMH priority, and one deriving from its original vocation: to advance society by providing quality education, research, and services.
Further information is available at the following link:  http://www.umh.es/contenido/Estudios/:tit_g_255_R1/datos_es.html