Patronage Website Recognized for its Involvement in the Fight against Covid-19
The Diputación de Alicante has recognized the Patronage website at the Miguel Hernández University of Elche (UMH) for its involvement in the fight against Covid-19. UMH Vice Rector for Knowledge Transfer and Exchange, María José López, was responsible for accepting this acknowledgment during the Diputación Workshop on Volunteerism and Social Responsibility, which was held November 25 at the ADDA Concert Hall.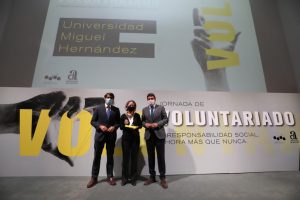 Through the Patronage website, the UMH raised money to fund the manufacture of close to 3,800 pieces of personal protective equipment for hospitals, health centers, senior care facilities, and other entities. Goggles, filters, screens, vent splitters, and holders for pacemakers are some of the articles manufactured by a network of seventy-three 3D printers. In all, UMH employees donated 68,165 euros, and a further 18,501 euros were received by private citizens.
The Diputación de Alicante organized this workshop to acknowledge and highlight the efforts put forth by businesses, institutions, and citizens from around the province during the pandemic.
Further information about the UMH patronage website is available at these links: https://youtu.be/GoI9gY92w8U & https://mecenazgo.umh.es/