The UMH Dátil 2016 prototype vehicle, winner of the Shell Eco-marathon by traveling 1,556 kilometers on one liter of ethanol
The Dátil 2016 by the Miguel Hernández University of Elche (UMH) has won first prize in the international Shell Eco-Marathon for alternative fuel by traveling 1,556 kilometers on one liter of ethanol. Furthermore, the UMH vehicle performed 12.6% better than the runner-up. This is the second consecutive time the UMH team has won this competition; the winning vehicle from 2015 went 1,496 kilometers on a liter of ethanol.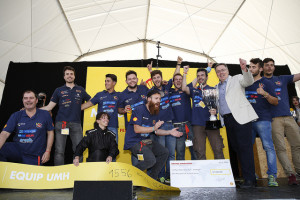 The competition was held July 1-3 at an urban circuit in London, England. Associate Professor Miguel Ángel Oliva Meyer from the Department of Mechanical Engineering and Energy directed the UMH team, which was comprised of students from the School of Engineering of Elche.
Some 200 teams from around the world participate in this international competition, and this was the thirteenth time that a UMH team entered an energy efficient vehicle. This year, the students designed an entirely new prototype that reduced its weight to 26 kilograms (a 10% reduction with respect to the previous model) because they used a frame made from 100% carbon fiber. To accomplish this, the students developed a system to manufacture carbon fiber sandwich panels from pre-impregnated fibers. This technique will permit making even lighter vehicles in the future. The Dátil' 16 incorporates innovative front-wheel drive to optimize weight and reduce friction around curves. It measures 2.85 meters long, 60 centimeters wide, and is 50 centimeters tall.