More than 357 corrected university entrance examinations from 2013 – 2020
The Miguel Hernández University of Elche (UMH) is offering society the Examination Bank blog, which contains more than 357 corrected university entrance examinations from 2013 – 2020. In addition to exams, this blog also provides information on grading criteria, frequently asked questions, plus advice on successfully undertaking this examination, for which more than 3,000 prospective students will sit at the UMH on June 8 – 10, 2021. This project, a pioneer in Spain, was launched in 2014, and it can be consulted at http://bancdelaselectivitat.edu.umh.es/.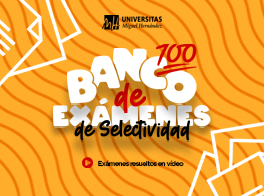 The Examination Bank aims to be a simple, direct, and effective tool for students taking these exams. On the blog, students can follow systematic explanations for questions and problems that were included in previous editions of these exams. The exam bank is found on the UMH YouTube channel (www.youtube.umh.es ), which enables free and immediate access to 357 videos that strive to resolve doubts and hone arguments used to answer different questions.
To date, the bank has recorded more than 2.4 million views, and its users have spent more than 98,000 hours watching the videos from the various subjects. In 2021, views have increased by 37% and the total number of viewing hours has increased by 29% when compared to the same data for 2020.
The videos were made between June 2013 and September 2020 by faculty specialized on the various subjects that make up the university entrance examinations for the ordinary and extraordinary testing periods within the Valencian Community.
As for the locations taking advantage of the Examination Bank, more than 90% of them originate within Spain, and besides the Valencian Community, the communities of Madrid and Catalonia are well represented. Among large metro areas, the city of Valencia stands out, with almost 220,000 entries, followed by Alicante (193,000), Madrid (157,000), Barcelona (89,000), and Elche (82,000).
For the current school year, the university entrance examinations will be being given on UMH facilities. The ordinary testing period is June 8 – 10, while the dates for the extraordinary period are July 6 – 8. Due to the Covid pandemic, the tests will be given under strict safety measures with minimum social distancing of 1.5 meters between each student. Likewise, the control measures when students enter the exam rooms are being enhanced, as well as the measures affecting cleaning, disinfection, and ventilation both before and after each of the examinations.