Virtual tours of the four campuses
Visiting the spaces and facilities on the different campuses of the Miguel Hernández University of Elche (UMH), as well as learning the ins and outs of its 26 bachelor and 2 dual bachelor programs offered at the UMH, all virtually, has become possible via a new website launched by the Vice Rectorate for Student Affairs and Coordination. With this website, the UMH becomes the first Spanish university to provide a service that enables taking different virtual tours.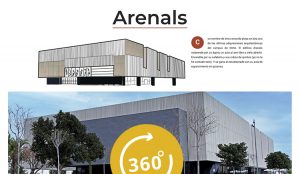 At http://futuroestudiante.umh.es/visita/, any visitor can access the buildings and spaces that make up the four UMH campuses, located in Altea, Elche, Orihuela, and Sant Joan d'Alacant. Through this initiative, the UMH provides an immersive transmedia experience because once users begin any of the itineraries, a narrator guides them and explains the routes as they are traversed virtually. Standing out among the different contents the website offers are videos of classroom lectures and laboratories, experiences related by UMH alumni, 360 degree views of different areas and locations, plus photographs of various university nooks and crannies.
In addition to this virtual tour, the UMH Vice Rectorate for Student Affairs and Coordination is also holding a virtual and free of charge virtual open house, which is taking place May 17 – 26 during local afternoon hours. In this event, UMH upper classmates will connect and talk about their majors and resolve doubts raised by potential future students. This activity is intended for anybody interested in learning about academic opportunities here, enrolling at the UMH, and the study grants and financial aid that the UMH offers. The period for registering for the virtual open house will remain open until 20:00 CET on Sunday, May 16, 2021, at this link: http://futuroestudiante.umh.es/jornadas.html.