2022-2023 Welcome Activities
Exhibitions, choir concerts, theater, and workshops, such as Initiation to Multilingual Dubbing. Do You Want to Dub a Film?, are examples of some of the Welcome Activities planned by the Vice Rectorate for Culture at the Miguel Hernández University of Elche (UMH) to ring in the 2022-2023 school year. The activities are taking place throughout the month of October.
Other planned initiatives include the projection in the Universitas Room of the Rectorado & Consejo Social Building on the Elche Campus of (Auto)Exposiciones, by Florencia Aliberti; the presentation and open-door rehearsal of the Pneuma UMH Vocal Ensemble; plus the Summer Courses closing ceremony on Radio UMH. There is also a correlengua and concert performance by singer-songwriter, Gem, in addition to other offerings, including exhibitions and film series in the Valencian language.
Welcome Activities are free and everybody is welcome as long as space is available. Some events, however, require a reservation to attend. These activities are directed at the university community and general public alike.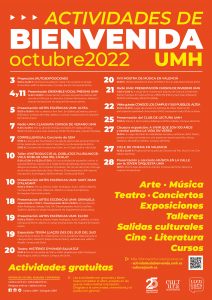 For more information, go to Cultura umh » Actividades de bienvenida