Pepe Andreu Radio Award
The Miguel Hernández University of Elche (UMH) and the Alicante Press Association (APA) have announced the seventh edition of the Pepe Andreu Radio Award for journalism, which was created in 2008 by both institutions to honor this Elche journalist. This award, endowed with 3,000 euros in prize money, strives to stimulate the work of radio professionals.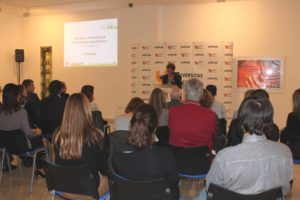 All radio work broadcast between January 1, 2015 and December 31, 2016 by any national and international broadcaster or broadcasting network covering the realms of culture, science, athletics, and education may enter this contest. September 30, 2017 is the deadline to enter, and the programs must be between 5 and 30 minutes in length. To choose the winner, various aspects, such as creativity, originality, and production, will be evaluated.
The winner of the sixth edition of the Pepe Andrew Radio Award went to Michael García Pérez of Radio Camoa (Cuba) for his program, "La madre negra de Martí."
A native of Elche, Pepe Andreu dedicated most of his life to journalism. A member of the Misteri d'Elx Governing Board, he worked at the diario Información newspaper, and was director of various means of communication, including Radio Elche, Radio Cadena (Tortosa), RNE Elche, and RNE Alicante. From 1998 until 2006, he was vice president of the Alicante Press Association. In 2007, the year in which he died, he was director of Onda Cero Elche.
RULES FOR THE 2015-2016 MIGUEL HERNÁNDEZ UNIVERSITY OF ELCHE PEPE ANDREU RADIO AWARD FOR JOURNALISM