Criminal and antisocial incidents in Spain caused by the arrival of the Pokémon Go game studied at the UMH
The Crímina Center for the Study and Prevention of Crime at the Miguel Hernández University of Elche (UMH), in collaboration with the National Association of Local Police Chiefs and Managers (UNIJEPOL), has begun an investigation focused on examining criminal and antisocial incidents that have taken place in Spain over the past few weeks since the arrival of Pokémon Go. Analyzing the data will permit establishing geographic and temporal patterns of incidents recorded in Spain's major cities in order to guide policies that permit safer enjoyment of the game.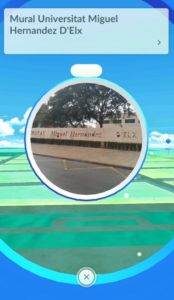 According to investigators, in the last few weeks, the Pokémon Go augmented reality game has altered patterns of citizen mobility in major cities and has encouraged the emergence of risky behavior among some of its players, such as the use of mobile telephones while driving, trespassing, large crowds, and even aggressions. With the aim of analyzing public safety problems caused by this game, the UMH Crímina Center and UNIJEPOL are conducting an investigation to create a record of criminal and antisocial incidents linked to use of Pokémon Go detected by police and security forces.