Members of the UMH Guepardo Project present the motorcycle prototype that will compete in the 2016 MotoStudent Competition
Students from the School of Engineering of Elche (EPSE) at the Miguel Hernández University of Elche (UMH) who are part of the Guepardo Project presented this morning the motorcycle prototype they will enter in the international MotoStudent Competition, which will be held from October 6-9 at the TechnoPark MotorLand circuit in Alcañiz, Spain. The UMH Moto Experience Team was victorious in the previous edition, held in 2014, in which universities from Spain, Italy, Portugal, Hungary, Brazil, and Ecuador participated.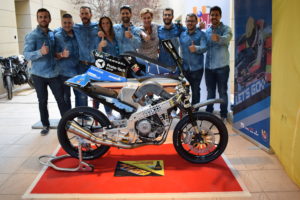 UMH Vice Rector for Institutional Relations, María Teresa Pérez Vázquez, accompanied the Guepardo Project members during the presentation of the motorcycle prototype. The team is comprised of UMH undergraduate students: seven engineering students who are responsible for the motorcycle design and assembly, and two journalism students who assist with communication tasks.
The students built a prototype that weighs approximately 95 kilograms and produces 30 horsepower. The UMH vehicle, whose dimensions are similar to one from Moto3 but more compact, will be piloted by Francisco Albertu Moya, reigning MotoStudent champion with the UMH Moto Experience Team. The motorcycle frame, made from aluminum, is modular and divided into five pieces of various materials, and these provide it elasticity and distinct rigidity. UMH students avoided welding the parts by using special TGM screws that do not deform, and therefore afford a frame with perfect measurements. Its swingarm, also made from aluminum, is comprised of three parts.
MotoStudent is an international competition between universities the world over, and is promoted by the Moto Engineering Foundation. Student teams design and develop a prototype racing motorcycle that is similar to the Moto3 category, with a 250 cc four-stroke engine. The competition consists of two phases: a first that judges technical and innovative aspects of the motorcycle, with resistance tests; its second phase consists of the race.