The Scientific and Business Park at the Miguel Hernández University of Elche (UMH) has opened the pre-registration period for the 5th edition of the UMH Business Creation Sprint. The Sprint is an intensive incubation and acceleration program that combines training, guidance, and funding to support the creation of innovative businesses in any activity or sector. Interested parties may send their applications to www.sprintempresasumh.com until June 23. The program starts June 30 in the Innova Building on the Elche Campus.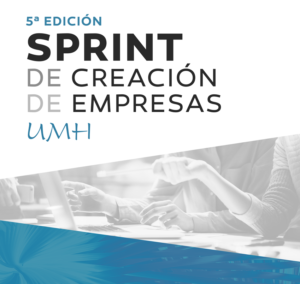 During the Sprint, entrepreneurs complete a training program that focuses on key areas of business creation (strategy, marketing, management, finance, legal) and mentoring for product development and business model design and validation. The winning projects receive an initial economic boost to launch their businesses, as well as a one-year free stay in the incubation spaces at the UMH Scientific Park. Likewise, they also gain preferential access to its infrastructure and services to support their growth, in addition to access to subsequent public and private funding.
There are two stages in the UMH Sprint, one in July and the other in September. In the first, the participating entrepreneurs receive training with tools and methodologies to manage the development of their products or services, and they employ techniques to explore markets and potential clients. Upon conclusion of this stage, a panel comprised of business people, local investors, and UMH community members selects the five best business ideas and awards 1,000 euros to each one.
In the second stage, the aspiring entrepreneurs continue their training and they receive guidance for advancing their projects and refining their work plans. Once this concludes, the panel evaluates the progress of the business projects and gives out 20,000 euros. The panel may award this entire quantity to a single project should it deem this appropriate. Participation in the UMH Business Creation Sprint is free and projects that are selected will be announced on June 29. For further information, go to the following link: www.sprintempresasumh.com.