New edition of Winter Courses
'Big Data for All,' 'Cooking Artificial Intelligence with Python,' 'Pedagogical Tools: Tales in Valencian,' gender equality, and diversity are some of the courses and topics offered in the current edition of Winter Courses that have been put together by the Vice Rectorate for Culture at the Miguel Hernández University of Elche (UMH). There are 44 Winter Courses in all, and they run between December 2022 and May 2023. Thirteen of the courses are being taught in-person on the campuses of Elche, San Juan, Orihuela Desamparados, and at the Aula Plaça de Baix plus the Crevillente City Hall. The remaining courses are being taught online over the UMH Virtual Campus.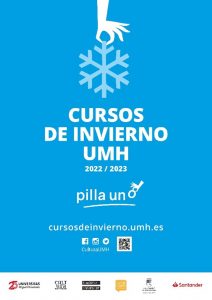 UMH Winter Courses represent a forum for learning and debate whose topics and subject matter are complementary to university instruction and disciplines, they provide perspectives that are generally not addressed in other academic formats, and they familiarize their students with distinct competencies. Some of the courses consider training requirements from different institutions and organizations from both the public and private sectors, as well as society in general.
One feature about this edition of Winter Courses worth mentioning is that some of them are completely free of charge while the fees for others have been reduced. This was made possible by an initiative of the Language Office, units of Equality and Diversity, the Legal Science Department, as well as from collaboration by the Crevillente City Hall and Banco Santander. Such initiative constitutes the effort by the UMH to continue with its commitment to training and raising awareness in the areas of Valencian language promotion, equality, and diversity.
For more information, and to sign up for a 2022-2023 Winter Course, go to the following link: https://cultura.umh.es/es/cursosdhivern/.